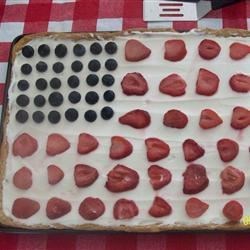 (This isn't the picture of mine, I forgot to take one, but I loved the idea behind this one, especially with the 4th of July coming up soon)
I love pizza!! So what could possibly make pizza better? Sweeten it up and add some fruit, and cut out a lot of the greasiness! Okay, so then it's not really pizza, but we can pretend anyway.
With summer heating up, there's bound to be lots of bbq's, picnics, reunions, get togethers, potluck, etc. So here's fun dish to bring that is a healthy dessert (I know, that's an oxymoron , right?) What I love is how you can jazz this up and tweak it whatever fruits you prefer. Don't like bananas? Leave 'em off. Allergic to strawberries? Use raspberries. Don't like pineapple? Use oranges. You get my drift.
Fruit Pizza
Crust:
Use your favorite sugar cookies recipe, store bought dough, or try my tried and true recipe
3/4 c sugar
1/2 c. butter (I use Gold n soft Light margarine to cut back on the calories)
4 oz fat free cream cheese (you may use regular it doesn't affect the flavor)
1/2 egg or 1 egg white
1/2 tsp vanilla
1/4 tsp almond extract (you may omit if you don't have it, but it's one of my favorites)
2 cups flour
1/2 tsp baking powder
Cream sugar, butter, cream cheese. Add egg and vanilla and almond. Stir in the dry ingredients, you may need a dash more flour, depending on the day (it varies every time I make it). Refrigerate until easy to work with, usually 30 min- 1 hour.
Spread dough on a pie pan or cookie sheet, spray with cooking spray. Don't make it too thin or it will be crispy, and too thick it won't cook. Bake at 375 degrees for 15 minutes or until edges get light brown, but don't over cook it. Let cool completely before putting sauce on it.
Sauce
8 oz. fat free cream cheese
1/2 c. sugar, granulated, not powder
1 tsp. vanilla
mix together and spread over cooled sugar cookie crust.
Toppings
Spread whatever fruit your little heart desires!!! I used canned fruit because I didn't have time to go to the store and it turned out great.....I think I ate half my pizza myself......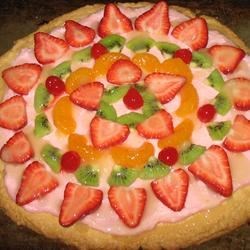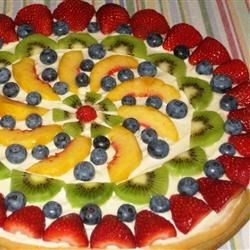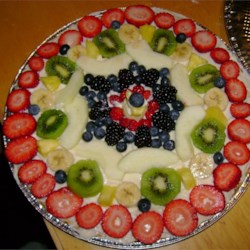 Here are some pictures I found of what some people did. Mine didn't look so cute.....I just threw the fruit on willy nilly =)

So for the point value for this.....not exactly on the lower point side. The total, using light butter and fat free cream cheese is 51. When I cut my pizza I had about 25ish squares, so that would be 2 points per square. You can cut out some of the sugar in the cream cheese sauce or use sugar substitutes to cut the calories more. But 51 sounds better to me than 96, which is what it would be using real butter and regular cream cheese. I've made this recipe using regular and fat free/low fat stuff and there isn't a huge difference in taste, you can just taste the butter more when you use the butter but I prefer how it tastes with margarine.