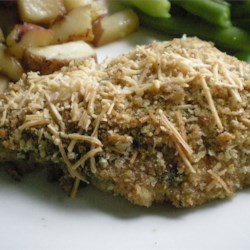 I made this the other day and my kids were asking to eat leftovers for the rest of the week from it. My poor hubby didn't get to try any because the kids wolfed it all down.
2 tbsp. oil
1 clove garlic, minced
1 1/2 c. bread crumbs ( I had the heels of my bread loaves that I had been drying for a few days that I put into the food processor)
2/3 c. grated Parmesan ( used the Parmesan topping)
1 tsp. cilantro
1/4 tsp pepper
1 tsp Italian seasonings
2 tsp minced onions or 1 tsp onion powder
4-6 chicken breast halves, depending on size of you chicken. (I used 4 because my chicken was pretty big)
preheat oven to 350. Lightly grease a 9x13 dish. Combine oil and garlic. In separate dish, combine bread crumbs, Parmesan, cilantro, pepper, seasonings, onion. dip the chicken in the oil mix and then roll in bread crumbs. Place chicken in dish and cook for about 30-40 minutes, or until chicken is cooked through.
This was super delicious!!! It was tender and juicy! I paired it with some homemade mashed potatoes. This will definitely be something I will be making often. I'm not sure the points value but the calories of the chicken for this is around 240 calories.